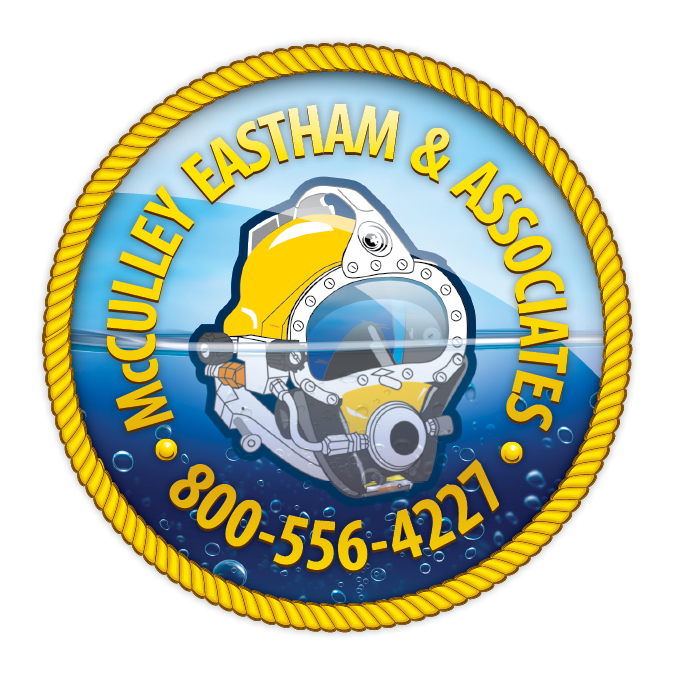 cCulley Eastham & Associates, Inc. offers inland commercial diving services specializing in tow boat response and underwater bridge inspections. We are signatory to the United Brotherhood of Carpenters & Joiners of America. We offer inland diving services ranging from inspection and minor servicing/maintenance up to heavy construction and/or demolition.
Although MEA specializes in tow boat response and bridge inspections, we also offer a host of commercial diving services. Some of the additional services we offer are listed below. Should you need a diving service that is not listed on this web page, please feel free to contact us to see if MEA can perform the needed task.
---
Services Offered:
Some of the work tasks our dive team can assist you with include, but are not limited to:
Complete Replacement of seals in Circulation Water Valves
Power & Industrial Plant Inspections & Repairs
Travelling Water Screens Repairs, Replacements and Maintenance
Stop Log Installation and Dewatering
Pipeline Installation and Maintenance for Industrial and Municipal purposes
Pipe Penetration Dives of Any Distance
Haz-Mat Diving Services ( Potable Water, Jet Fuel, Diesel Fuel, Septic and many more)
Underwater Welding & Cutting Services
Underwater Sediment Removal (Intakes, Cooling Towers, Pipelines and more)
Underwater Search & Recovery Services
Underwater Inspections & Damage Assessments
Underwater Non-Destructive Testing
Cathodic Protection Inspections & Installations
Underwater Paint (Bulkheads, Piles, Vessels)
Pile Rehabilitation (Concrete, Timber & Steel)
General Marine Construction
Ship, Barge & Marine Maintenance and Salvage Operations
Our Marine Safety Diving Services line manager can review jobs not listed above on a case by case basis to determine if we are qualified to perform additional services.
For more information contact Rob Batchelor:
Office - 1-800-556-4227
Cell - 606-922-7324
Email - rbatchelor@safetyconsultants.com

---
Training & Qualifications
We are well trained to perform industrial technical
inspections, ship husbandry, servicing, maintenance,
construction, and demolition. Our divers
have many years of experience in the commercial
diving industry and have trained in recognized
programs throughout the United States.
---
Organization
Our dive services group performs all work in accordance with our dive safety program, which is compliant with OSHA standards and requirements.
Typical responses will be made up of three person teams including:
Diving Supervisor: The employee designated by the employer at the dive location in charge of all aspects of the diving operation affecting the safety and health of dive team members. The diving supervisor has the experience and training in the conduct of the assigned diving operation.
Diver: An employee working in water, providing light commercial diving services, using underwater apparatus which supplies compressed breathing gas at the ambient pressure.
Dive Tender: A diver at the dive location available to assist a diver in the water and maintains a rope connecting the diver to the tender for use in accountability and emergency evacuation of the diver from the water.
Additional resources may be required and will be allocated upon evaluation by our Marine Safety Diving Service line manager.
---